LGen (ret) the Hon. Roméo A. Dallaire, OC, CMM, GOC, MSC, CD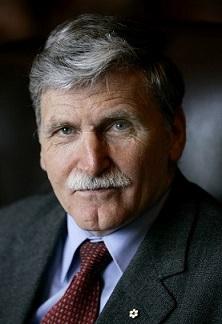 Roméo Dallaire is a former Canadian Senator, humanitarian, author, and retired General. He has had a distinguished career in the Canadian military, achieving the rank of Lieutenant-General and in 1988 becoming Assistant Deputy Minister in the Department of National Defence. LGen Dallaire is widely known for having served as Force Commander of UNAMIR, the ill-fated United Nations peacekeeping force for Rwanda from 1993-1994, and for trying to stop the genocide that was being waged by Hutu extremists against Tutsis and Hutu moderates. His book Shake Hands with the Devil, about his experiences in Rwanda, has garnered numerous international literary awards, and is the basis of a full-length feature film released in 2007.
Currently, LGen Dallaire is a distinguished Senior Fellow at the Montreal Institute for Genocide and Human Rights Studies (MIGS) at Concordia University, as well as Co-Director of the MIGS Will to Intervene Project. He also leads the Child Soldiers Initiative (CSI), a project which aims to generate the global political will to end the use of child soldiers. In 2002, he received the Order of Canada.
LGen Dallaire is a Principal Signatory of Global Zero.

Click here for more information and a complete biography.

See the links below for selected articles, speeches, and publications by Senator Dallaire.