The Hon. Douglas Roche, O.C.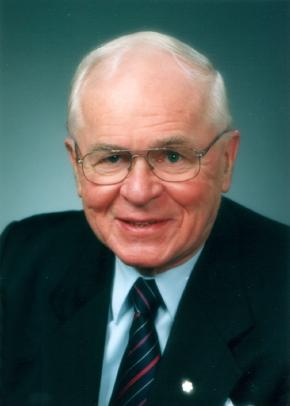 The Hon. Douglas Roche, O.C., is a former Canadian Senator, parliamentarian, diplomat and author.  He is Founder and Chairman Emeritus of the Middle Powers Initiative, an international network of eight international non-governmental organizations specializing in nuclear disarmament issues. In 2010, the City of Hiroshima named him an Honorary Citizen for his extensive nuclear disarmament work and particularly for founding the Middle Powers Initiative.
Mr. Roche has been a Canadian Senator, Member of Parliament, and Ambassador for Disarmament, and also a Visiting Professor at the University of Alberta. He was elected Chairman of the United Nations Disarmament Committee at the 43rd General Assembly in 1988 and is an Officer of the Order of Canada.

He has authored 20 books including How We Stopped Loving the Bomb (Lorimer, 2011), his memoirs: Creative Dissent: A Politician's Struggle for Peace (Novalis, 2008), and The Human Right to Peace (Novalis, 2003) and The United Nations in the 21st Century (Lorimer, 2015).  His most recent work is Recovery: Peace Prospects in the Biden Era (Khalid Yaqub, 2020).
He has received many awards for his work for peace and non-violence including the Mahatma Gandhi Foundation for World Peace Award (Canada) and the United Nations Association's Medal of Honour.  In 1995, Pope John Paul II presented Douglas Roche with the Papal Medal for his service as Special Advisor on disarmament and security matters and, in 1998, the Holy See named him a Knight Commander of the Order of St. Gregory the Great.  He was given Lifetime Achievement awards by the Canadian Pugwash Group and the Nuclear Age Peace Foundation in 2005, and received the Distinguished Service Award of the Canadian Association of Former Parliamentarians for his "promotion of human welfare, human rights and parliamentary democracy in Canada and abroad" in 2009.
Douglas Roche is a Principal Signatory of Global Zero.

Click here for more information and a complete biography.
Some selected speeches and publications by Douglas Roche are available below.