The Honorable Patrick Leahy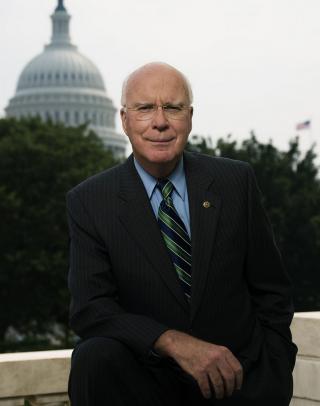 The Simons Foundation Award for Distinguished Global Leadership in the Service of Peace and Disarmament – November 2001

This Award is presented to Senator Patrick Leahy for his significant contributions to the promotion of peace and disarmament, specifically for his contribution to the realization of the Mine Ban Treaty. The Ottawa Process to ban landmines was a direct outcome of Senator Leahy's activity in the campaign to ban landmines. The success of the Ottawa Process laid the groundwork for the Oslo Process banning cluster bombs, for which, therefore, Senator Leahy can also take some credit.
Active on human rights issues, Senator Leahy was the leading U.S. officeholder in the international campaign against the production, export and use of anti-personnel landmines. In 1992 Senator Leahy wrote the first law by any government to ban the export of these weapons. He led efforts in the U.S. Congress to aid mine victims by creating a special fund in the foreign aid budget, and the Leahy War Victims Fund now provides up to US$14 million of relief to these victims each year. He was instrumental in establishing programmes to support humanitarian de-mining and played a key role in pushing for the international treaty banning anti-personnel mines. He also created and enacted civilian war victims' relief programmes that are underway in Afghanistan and Iraq.
Senator Leahy is the recipient of many humanitarian awards, and The Simons Foundation is honoured that he accepted The Simons Foundation Award for Distinguished Global Leadership in the Service of Peace and Disarmament.